Open Garden Weekend for MND
Once again, Mary Hainline is opening her garden to the public this spring. Our branch will benefit from sales of her art and ceramics, and we'll have a raffle, sell refreshments etc – anything to turn an honest pound to help people with MND in West Surrey, and to support the research effort.
The address is 'Pentire', Snowdenham Lane, Bramley, GU5 0AT, and the gates will be open from 10 am to 7 pm.
If you're near Bramley over the weekend of 10 – 12th May, do pop in!
*************
______________________________________________________________
What we've been up to:
(well, a bit of it!)
Sunday 13th March 2016 –
Surrey Half Marathon
Emma Mason is running again, this time for the Woking and Sam Beare Hospice. This is a very worthwhile cause, and some of our MND people are looked after there. Please support Emma's efforts on:
https://www.justgiving.com/Emma-Mason16/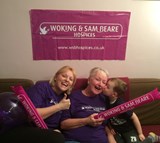 If this modern techno-stuff leaves you cold, you can shower her with gold at the next open Branch meeting a few days later (if she's walking again by then!) . . .
---
Wednesday 16th December –
Christmas Branch Meeting
Here are some of the Branch showing off their new 'T4MND' mugs.
Apart from tea, we had some more warming seasonal refreshment, and mince pies and Christmas Gingerbread Men, courtesy of Alison Husaunndee and Emma Mason. Thanks ladies!
Our speaker was MNDA Regional Fundraiser Pam Fry, who told us about 'Putting the Fun into Fundraising'
---
Sunday 27th September –
Windsor Half Marathon
Emma Mason ran for us, accompanied by her pace runner, David Hodgson
and raised over £1400 – a brilliant effort!
Emma with supporting fans – son Max, brother Richard and friend Anita
With some of the MNDA crew
---
Wednesday 16th September  –
Our first open Branch meeting in Guildford Cathedral Education Centre.
Lisa Milella gave us a fascinating presentation about her work with International Animal Rescue. She is one of very few experts in her field, and rescuing abused animals from a life of agony is her passion. Now living with MND, she has taught many other vets worldwide the techniques she uses. This was a unique occasion, and was enjoyed by an appreciative audience!
---
Rock'n'Roll Bingo!
First attempt at this, and we'll do it again!
---
Golf Day in aid of our Branch

Tuesday 28th April
West Byfleet Golf Club
This event was well supported, the sun shone, and we made over £5000 – all good!
Many thanks to Linda Portlock for organising the day, and to the Golf Club for hosting it.
---
Flea Market
Saturday 25th  April 9.30am  – 1.00pm
---
Friday 2nd January 2015 –
Collecting at the Guildford Odeon for the Stephen Hawking film
'The Theory of Everything'
Over £700 raised !
Many thanks to the Odeon, its patrons, and all our helpers !
---
Saturday 8th November – Haslemere Charities' Fair
. . Joan and Mary deep in discussion !
---
Saturday 15th November – Combined Charity Day, Guildhall, Guildford
L to R: Alvin (Treasurer), John (Comm member), Cllr David Elms (Mayor of Guildford), and Bob (Chairman)
We had the opportunity of chatting both to the Mayor and to the Deputy Mayor,
Cllr Nikki Nelson-Smith